Tickets are now available through Eventbrite. The Maze is open from 10am. Last entry is 4pm and our farm gates shut at 5pm (see full list of dates available).
Information to help plan your trip to the farm. Directions can be found here.
EFTPOS
EFTPOS facilities are available at the Maze entrance.
What to bring on the day
Hat, Water and Sunscreen
The Maze can get extremely hot and it is advisable to arrive early on warm days. Please remember to bring your hat, water and sunscreen. We will have these items for sale in case you forget!
Walking Shoes
The Maze track can be rough and uneven, comfortable sand shoes/ walking shoes are a must! Also if it has rained, the track may be muddy.
Food and drinks
Food and drinks will be available at the Crop Maze Courtyard. EFTPOS facilities are available for purchases.
Alternatively, please feel free to bring along your own picnic hamper! There is shade under a marquee in the paddock and you are welcome to stay as long as you like.
Bottled water will be available at the Maze but, in an effort to reduce plastic waste, please remember to bring your own water!!
Accessibility
We recommend that parents with very young children carry them in backpacks or other carriers for that purpose, rather than by stroller.
The crop maze is accessible to wheelchairs, however, please note that the pathways are not sealed and the ground can be uneven with maize stubble, especially in the early open weekends. Please note that wheelchair friendly toilets are located at the Westbury Recreational Ground (26 Franklin Street, Westbury).
Please contact us directly if you have any queries on accessibility.
Dog-friendly afternoon at the Maze
Our very popular Crop Maze Dog afternoon will be back on Saturday, 23 March from 2 – 4pm. During this time, friendly dogs (on leads) are welcome to our Maze but please remember to bring your doggie bags to clean-up any mess.
Accommodation
Clayfield Homestead – Offering authentic country accommodation in the heart of picturesque northern Tasmania, this 1820s homestead caters for groups of up to 16 and is perfect for families, friends and corporate groups. Located in the homely hamlet of Bishopsbourne, Clayfield is only 12 minutes from Rupertswood Farm.
Little Sunnyside – Situated on a working farm, this renovated accommodation is excellent for families who wish to explore the Maze. Little Sunnyside is located only one minutes' drive from the Maze.
Hawthorn Villa Stables – Based in Carrick, Hawthorn Villa Stables is home to one of the beautiful gardens in Tasmania. It offers a wide range of accommodation options and hosts, Nicole & Innes, are super nice. It is less than five minutes drive to the Maze.
---
View additional information to help plan your visit ….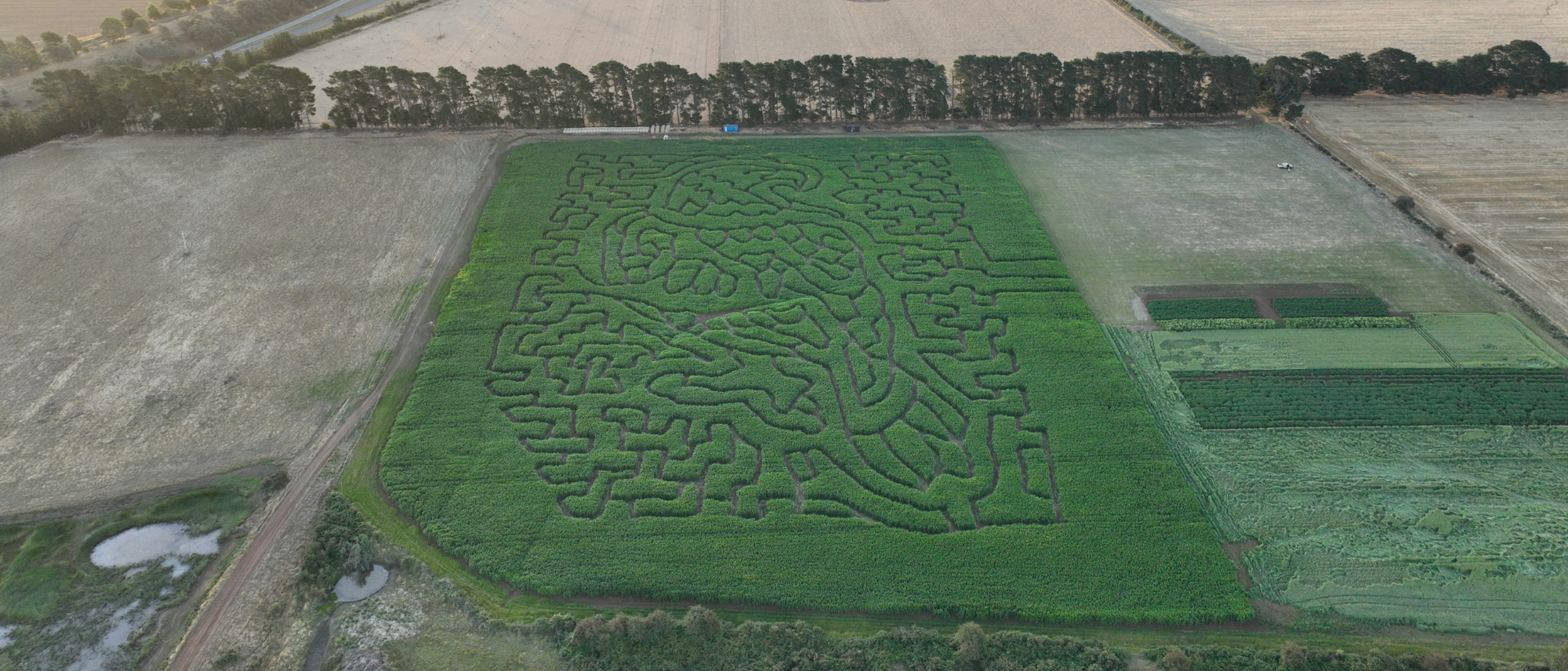 The Eagle has landed …
WE CAN'T WAIT TO SEE YOU AT THE FARM!
Schedule a visit